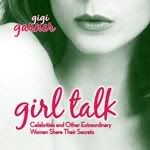 Gigi Garner, daughter of James Garner, has brought together women from all different walks of life in this fun book,
Girl Talk
.
This is a snippet from the
Girl Talk
website:
Something special happens when women get together and talk - confidences are shared, help and support given, all in the name of sisterhood and friendship. Women are compassionate listeners, knowing intuitively when to offer advice or merely a shoulder to lean on.


In Girl Talk, Gigi Garner has compiled advice and humorous tips from over 100 women. Included in this group are celebrities such as Naomi Judd, Joan Rivers, Jamie Lee Curtis, as well as bankers, designers, moms, and others. Each woman gives a small tidbit of advice or humorous encouragement on many topics. My favorite chapter is Mommy Talk, maybe because I can relate so well! Other chapters cover the kitchen, health, and even pets!


Did you know that witch hazel is an awesome skin toner? That if you put a mixture of Epsom salt and water on your fruit trees, it will make your fruit taste sweeter? Or how about using an old lunch box for a homemade first aid kit, along with suggestions of what to include! These are just a few of the handy tips that you can find in Girl Talk.


I will admit that I did find the book a bit boring at first, and I had to keep reminding myself to pick it up. Once I got about halfway through I realized that I was really enjoying the tips and information that I was learning!
Note: This book was provided free by Five Star Publications through Mama Buzz, in exchange for a review.