*This book was given as a complimentary copy to Mama Buzz and reviewers, for blog tour purposes.*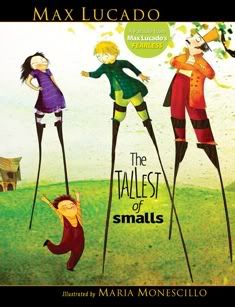 I was so excited to review the newest children's book from Max Lucado,
The Tallest of Smalls
.
It's a parable adapted from his book,
Fearless
. The story follows a little boy named Ollie who so very badly wants to fit in with the "talls". Every day the people of Stiltsville gather at the center of town, and one person is chosen to receive a pair of stilts, therefore becoming "tall".
One day Ollie is chosen, and he quickly finds that it isn't everything he thought it would be. He quickly falls from his stilts and no one comes to help him. Then he feels a hand on his shoulder and looks up to see Jesus! At this point Jesus reminds Ollie how special he is to the One who created him, and he will always be loved!
What an awesome reminder for kids and adults, that no matter who or what we are on this earth, we matter to Jesus. And that's the most important thing of all!
The illustrations are wonderful and inviting to children. I did find that a few times the wording didn't seem to flow too well and I had to re-read a few parts. Maybe I was trying to read it too fast, but i'm not sure. I like that in the beginning there is a note to parents about reminding children that they are loved, special, and that God thinks we're awesome!
My oldest two children (5 and almost 8) have both been in situations recently in which they were excluded by one person, and then others who followed along. This book was a wonderful way to remind them that even if we are treated badly or looked down upon, it's okay--we will always have Jesus, and we matter most to Him. He will always be with us wherever we go!